MyMail 2.1 is a free update has a lot of new features. While most of them work without breaking anything some changes may need your attention.
New Forms Sections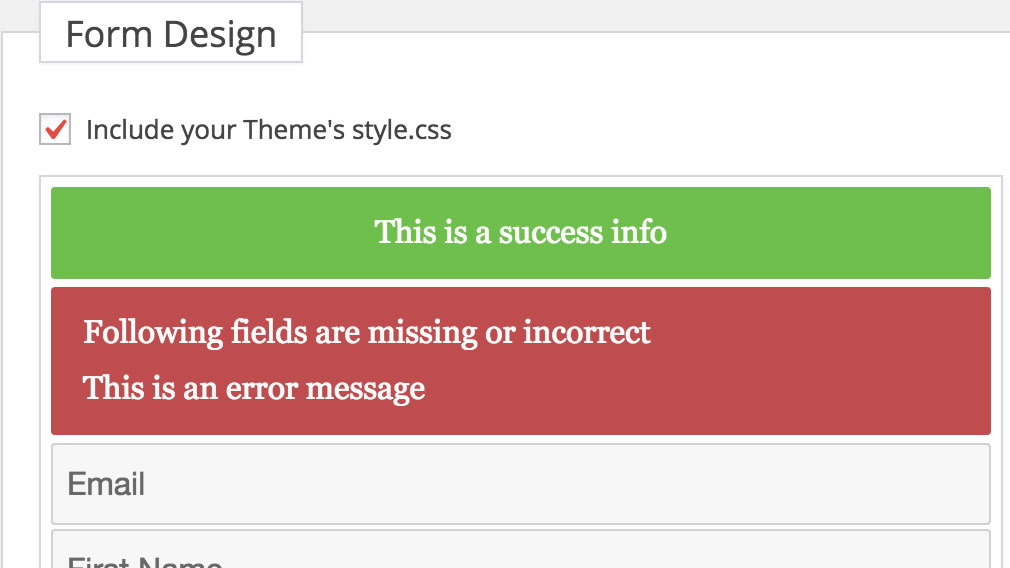 MyMail 2.1 main feature change is the shift to forms which are stored in a dedicate database table.
Forms are now more easy to manage and can be found in the Newsletter sub menu. It's easy to define fields, design and settings for each one.
The "Use it" section gives you a great overview how you can use your forms better. Also the new "Subscribe Button" can get accessed via this tab.
Subscribe Button
You can now offer you sign up form on any site, easily with a button, similar to a tweet or like button.
Test it now and Subscribe to the MyMail newsletter.
Better Editor
Creating campaigns should be as easy as possible. A major point in 2.1 was the improvements of the newsletter creation.
Template Activation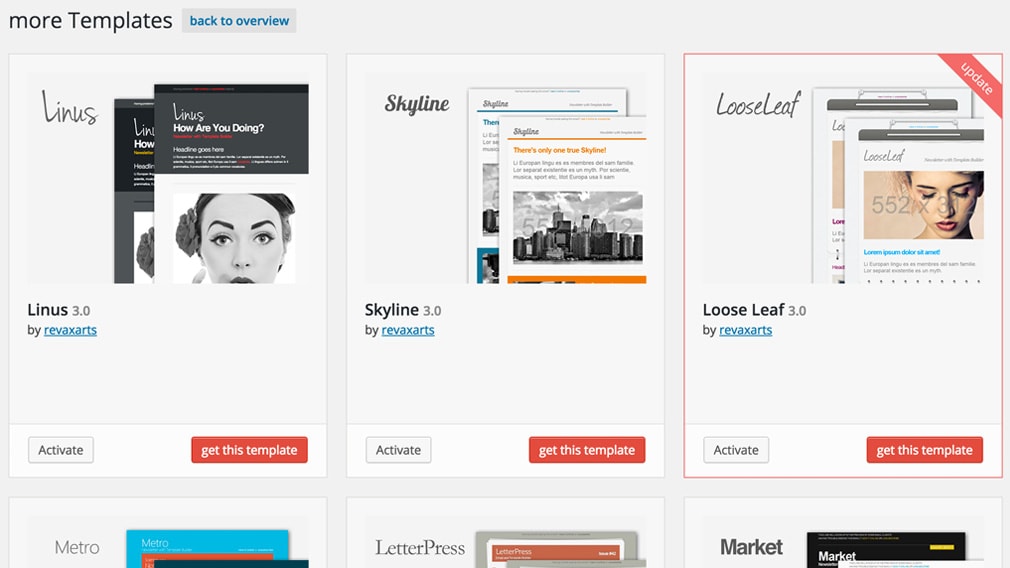 If you have one of the available templates you can just activate them on the backend without the need of downloaded it from ThemeForest.net.
Currently only my own templates are available but more are coming soon!
User Rating
MyMail Subscribers have now a rating. This is based on various factors like open, click and bounce rate. The higher the rating (from 1 to 5 stars) the earlier subscribers get the next campaign. So more engaging users get your emails even faster.
You can now also define segmentation rules based on the rating value.
Improved Dashboard Widget
The rewritten Dashboard widget show now you subscriber grows in the last 7 or 30 days.
Loading data via ajax has improved the loading time on your Dashboard as well.
More Stuff under the hood
Honeypots for Forms
Forms have now an additional spam prevention with a honeypot.
Segmentation with regular expressions
Segmentation is now even more flexible when using regular expression.
Do-Not-Track feature
MyMail can respect you subscribers Do-Not-Track settings to respect their privacy. Enable this option on the settings page
Ignoring Posts
If you use dynamic post tags you can exclude certain post with a mymail_ignore custom field.
Background images
Some background images in templates can now get changed like other images in your campaign.
Single Opt Out
Canceling subscription is now faster with a single click. Enable this option on the settings page.
Compressed Assets
All JavaScript and CSS files are now compressed via YUIcompresser to increase performance.
Bounce Handling for Confirmation
If confirmation messages bounce back MyMail can handle them and change the status of the user.
PHP version 5.3 is now required
MyMail uses third party libraries wich uses namespaces. Namespaces works only in 5.3 and above. If you still on 5.2 or lower you should consider updating cause 5.2 is no longer supported for over 5 years
Drop support for WordPress 3.4 and 3.3
MyMail supported WordPress since version 3.3 "Sunny" which has been released in 2011. With every new release of WordPress MyMail will drop support for the oldest one. So if WordPress 4.4 has been released the latest supported version will be 3.6. This doesn't mean MyMail will not work anymore an older version but no further testings are made for this version.
Form name attributes changes
For better compatibility with third party apps MyMail no longer uses the userdata array in forms.
A form input field in MyMail 2.0 looks like
<input name="userdata[email]" type="email">
In MyMail 2 it looks like
<input name="email" type="email">
While MyMail 2.1 will check for the userdata variable and handle this to provide backward compatibility it's recommended to update external forms to the new structure.
Getting Forms
In MyMail 2.0 you were able to interact with forms like
mymail('form')->get($ID);
mymail('form')->get_all($ID);
mymail('form')->set($ID, $key, $value);
mymail('form')->assign_list($ID, $list_id);
mymail('form')->unassign_list($ID, $list_id);

While this still works the method is deprecated and you should use
mymail('forms')->get($ID);
mymail('forms')->get_all($ID);
mymail('forms')->set($ID, $key, $value);
mymail('forms')->assign_list($ID, $list_id);
mymail('forms')->unassign_list($ID, $list_id);

In MyMail 2.1 the use of the first method will cause deprecated notice. Any other method which may worked before is not working anymore.
Full Changelog
new: update background images in campaigns like regular ones
new: subscribe button
new: time based auto responders can now get triggered when a certain amount of posts have been published
new: improved dashboard widget
new: single-sign-out
new: do-not-track feature
new: subscriber rating
new: add "mymail_ignore" post value to bypass post in campaigns
new: option to get notification on unsubscribes
new: frontend social icons
new: shortcode for subscribers count
new: premium template activation and update right from the templates page
new: new custom field type: textarea
new: added honeypot to forms
new: receivers segmentation ratings, forms and referer
new: receivers segmentation by regular expressions
new: Distraction-free-writing similar to WP natives feature
new: bounce handling of transactional mails like notifications
new: allow users to update their data via any form
new: option to delete WordPress User if Subscriber gets removed
new: tags {post_category[term]:-1} displays a list of terms
new: webversions now respect "Search Engine Visibility" settings
improved: campaign editor
improved: view on mobile devices
improved: handling of object caches
change: forms have now their matching field name in name attribute (backward compatibility given)
change: tabindex on forms removed
change: remove option "embed_form_css"
change: forms now always ajax based if JavaScript is enabled
change: only post_status of finished and Active on the archive page
change: required class changed from "required" to "mymail-required" on forms to prevent conflicts with other plugins
Signup for the newsletter to get latest updated and news